Y V A N H O E ' S
   W O R L D  

M U S I C
MULTILINGUAL,
EXPERIMENTAL,

PSYCHEDELIC:

A

NEW TASTE OF SOUL,

HIP HOP

 

NEWBEATS,

DUB

 &

REGGAE
LABEL:

YVANHOE'S
MUSICFACTORY
LC-28465
Music connects & never dies! 
Yvanhoe is Ivo G. Marcacci. He is songwriter, arranger, singer & producer. His main functions are: Lyrics & vocals, additional & base music (sampling/programming, guitars), all arrangements, recording, mixing & premastering. He gets inspired by his travels around the world & by meeting new people. He's interested in history & it's important to him to understand the connections & political relationships between different cultures.

This is why he takes advantage of various instruments & effects; he is a creator of new styles. The main message of his songs is clear to everybody: One love, hope, more consciousness & "just do it"! His songs are in different languages; therefore they reach many hearts as sung with Yvanhoe's smokey voice. He works/worked with various musicians & singers:

Senegal Minete from Mboro (Senegal), Doobie Sound Riddims from Uppsala (Sweden), Boomesprod from Besançon (France), Donmax from St. Gallen (Switzerland), Natty Warrior/ NattyBeatz from Solothurn (Switzerland), Gionata Pieracci from Roveredo (Switzerland), Sascha Tschumi from Solothurn (Switzerland), Alju Gjavit from Solothurn (Switzerland), Dave Ledergerber from Neunkirch (Switzerland), Bashkim Nimanaij from Schaffhausen (Switzerland)
& more ...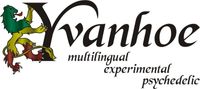 2008: EP "CHI SEI?"
SASCHA TSCHUMI/REALBEATRECORDS (base music, flutes), NATTY WARRIOR (back vocals), ALJU GJAVIT (folklore guitar), IVO G. MARCACCI (lyrics, vocals, back vocals, guitars, arrangements)
.........music written by Sascha Tschumi and Ivo G. Marcacci
 .........all lyrics written by Ivo G. Marcacci except "liberi" (Lucio Battisti)
.........recorded & mixed at Realbeatrecords by Sascha Tschumi
2011: Single "UNIVERSAL UNDERSTANDING"
GIONATA PIERACCI (piano), SASCHA TSCHUMI/REALBEATRECORDS (base music), IVO G. MARCACCI (arrangements, lyrics, vocals, back vocals, base and additional music)
.........music written by Gionata Pieracci, Sascha Tschumi, Ivo G. Marcacci
.........all lyrics written by Ivo G. Marcacci
.........recorded & mixed at Yvanhoe's musicfactory by Ivo G. Marcacci
.........mastered by Oliver Fabel, Audio-Mastering-Service, Hohenhameln (Germany) 

2012: Album "UNIVERSAL UNDERSTANDING"
GIONATA PIERACCI (piano), NATTY WARRIOR / NATTYBEATZ (base music, partially back vocals "Musica che mai muore"), DOOBIE SOUND RIDDIMS (music), DAVE LEDERGERBER/ERDLOCH PRODUCTIONS (rap vocals/lyrics, partially lyric "Erwacht"), BASHKIM NIMANAIJ/ERDLOCH PRODUCTIONS (base music), SASCHA TSCHUMI/REALBEATRECORDS (base music), ALJU GJAVIT (folklore guitar), DONMAX (music), BOOMESPROD (base music), IVO G. MARCACCI (arrangements, lyrics, vocals, back vocals, base and additional music, guitars)
.........music written by Gionata Pieracci, Natty Warrior, Doobie Sound Riddims, Bashkim Nimanaij, Sascha Tschumi, Alju Gjavit, Donmax, Boomesprod, Ivo G. Marcacci
.........lyrics written by Ivo G. Marcacci; rap lyrics & 2nd verse "Erwacht" by Dave Ledergerber
.........recorded at Yvanhoe's musicfactory by Ivo G. Marcacci, Realbeatrecords & Erdloch Productions
.........partially premixed at Realbeatrecords & Erdloch Productions
.........mixed & premastered at Yvanhoe's musicfactory by Ivo G. Marcacci
.........mastered by Oliver Fabel, Audio-Mastering-Service, Hohenhameln (Germany)
.........produced by Yvanhoe's musicfactory
DEMOS, PROMOS, SINGLES, ALBUMS